French Horn Repairs
---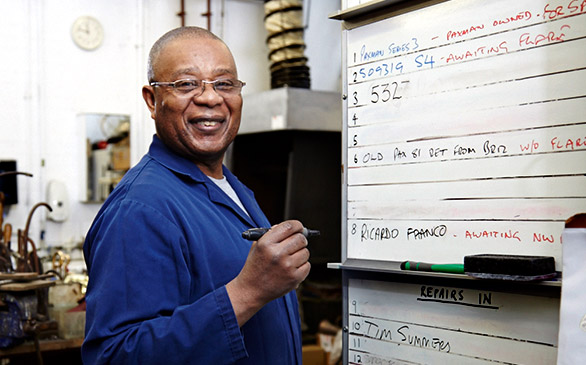 After five years working exclusively at our factory in Staplehurst, Paxman are happy to announce that David 'Satch' Botwe is now combining his bell making duties with heading the repairs team.
Satch has been with Paxman for 35 years as instrument repairer, horn builder and bell maker and has an unrivalled mix of expertise and experience. Having been a familiar face throughout the Covent Garden days and in Union Street, where he ran the repair shop for the first ten years, he moved to our Kent site in 2004. Satch has now returned to London and can offer the most comprehensive service for horn players in the UK, from restringing a valve to a valve service or even a complete rebuild of a damaged instrument.
This attention and service is not just for owners of Paxmans. As exclusive importers of Alexander horns and parts, and stockists of many other brands, we have a large stock of parts and can therefore offer a quick turnaround as well as the superb craftsmanship you would expect.
| REPAIR COSTINGS | |
| --- | --- |
| Strip, polish and re-lacquer a double horn (does not include dent removal or any other repair work required) | £724.34 |
| Conversion from fixed bell to screw bell (does not include case) | £528.00 |
| Fit waterkey | £52.13 |
| Re-string valves | £19.02 |
| Fit new neoprene to valves | £56.71 |
| Fit new neoprene to valves - Holton | £58.60 |
| Fit adjustable hand rest | £69.86 |
| Fit adjustable finger hook | £53.32 |
| Valve service | £216.00 |
| Pump through | £54.00 |
FREE LOAN INSTRUMENTS AVAILABLE
Paxman are pleased to announce that we are now able to offer a free loan instrument to any customer leaving their horn with us for repair. This means that as well as benefitting from having repairs or servicing carried out by the best equipped and most experienced workshop in the UK, you will not be without an instrument for however long your regular horn is with us.
The instruments supplied will be Paxman Academy or Series 4 horns (subject to availability) along with a backpack style case.
The horn repair facility is open from 9.30am until 4.00pm Monday to Thursday and there will always be a member of staff who can discuss a repair and give an estimate of the costs involved. Every repair is obviously unique but the chart above provide a rough guide.
The prices shown include VAT.
If you would like to discuss a repair, or would like more information, please contact us.